This has to be one of the cooler things a sports franchise has ever done, despite the fact that the management are the people that put this together and, in reality, have nothing to do whatsoever with the outcome on the court on any given night and, thus, are in no position to be guaranteeing anything…but now I'm just getting critical.  Golden State's fans have a reputation for being loud, loyal and coming out in droves wearing those dope Warriors' colors and certainly deserve a competitive team…so props to the higher-powers drafting a contract guaranteeing the following things: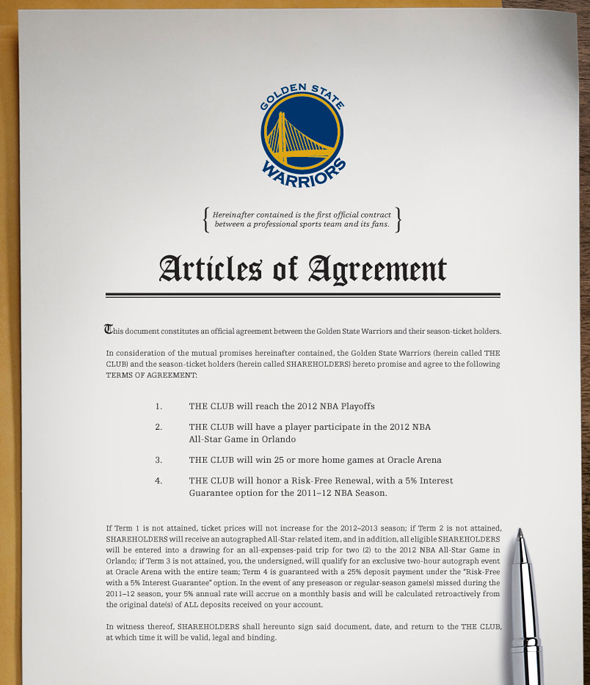 (click for a closer look or, alternatively, look at the cliff's notes version I've outlined/stolen from another website below)
The contract stipulates that:
1. THE CLUB will reach the 2012 NBA Playoffs.
2. THE CLUB will have a player participate in the 2012 NBA All-Star Game in Orlando.
3. THE CLUB will win 25 or more home games at Oracle Arena.
4. THE CLUB will honor a Risk-Free Renewal, with a 5% Interest Guarantee Option for the 2011-12 NBA season.
Now if only the Warriors could draw up a contract guaranteeing that the Heat would never win another game…that would be impressive.
[via The Basketball Jones and Ball Don't Lie]