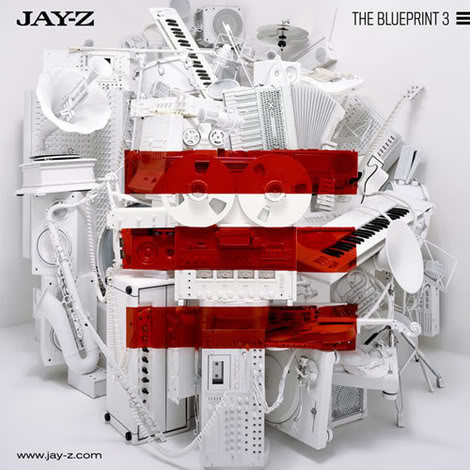 Jay-Z – The Blueprint 3
(download by right-clicking and going to "save as")
*Just to clarify, when I wrote "preview" in the title of this post, what I meant to write was "full, retail album in its entirety," as one of the most anticipated albums of 2009 ended up leaking yesterday, two weeks prior to its release.  Now, I am usually the first one to stand up for artists and protest against the piracy of their music (full disclosure: this is not true in even the slightest), but can such an innocent download really be called "piracy" when the artist himself:
1. Is worth $150 million; and
2. Admitted in an interview yesterday that the album leaking early is actually good publicity for its September 11th release:
"I may be the most bootlegged artist in history," he said in an interview after learning the news. "It's a preview. I'm excited for people to hear the album. I'm very proud of the work I've down, so enjoy it…My pager is actually ringing right now, so people are probably calling me and telling me they pretty much like it. I can tell by the way my pager rings if a song is good or not. It's really going crazy right now."
[via SOHH]
Well, the answer is "yes," it still is piracy.  Luckily, however, only the person who hosts the files or the website can get nailed in such a case, and considering I average about 1-2 hits a day (myself and myself later on), Blogbdon has all the necessary safeguards in place to shield you from any potential lawsuits.  So, if you haven't already, scroll back up there, download the shit out of it and go brag to your friends how cool you are for having the new Jay-Z like 6 hours before they do.  And do yourself a favor and listen to the track with Kid CuDI ("Already Home"); it's the best song on there.
ALSO, check out the sickest commercial I've seen in a long time, starring Hova and a bunch of his most famous album covers in a new Rhapsody spot: