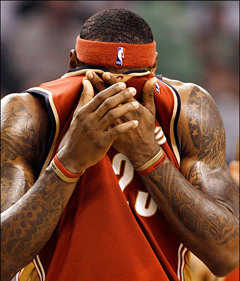 The argument has finally been decided conclusively in Rick Reilly's article published the other day, in which he asks a bunch of former players, coaches and others associated with the NBA who would win in a one-on-one game between Kobe and LeDouchebag:
Trainer Tim Grover (Attack Athletics in Chicago), who has trained Bryant, James and Michael Jordan:

Hard to say. Kobe could back LeBron down, too. He's that strong. Don't put me in this spot. I'm not picking.

How about Jordan versus either man?

Grover: Oh, Michael. No question. From a physical and mental standpoint, he's the best I've ever seen. If he were playing now, with the way the refs call everything, and with all the padding these guys wear, he'd average 40 or 50 a night if he wanted.
So it's settled.  Oh yeah, by the way, MJ would have scored 100 points in today's NBA…says MJ.  Greatest person ever.
[Thanks Odge]