Just take a cue from Toyota and start making cool shit like this, and I promise the whole U.S. automotive market will turn around…or something.
Quickly moving on from stuff that I know nothing about (e.g. current events, the recession, etc.), the Midnight Rider Tundra Tailgater (pictured below) was developed through Toyota's partnership with Brooks & Dunn. Now, this truck is a tight ass truck. Brooks & Dunn, on the other hand, are…well, I have no freaking idea what/who they are, aside from a country music duo whose "involvement" in the design of this vehicle was probably equivalent to Eminem and Jay-Z's "involvement" in the just-released DJ Hero (i.e. lend name to project, do nothing & reap benefits, namely in the form of cash money). Or maybe they're awesome, hand-built every single one of these trucks and financed the entire operation; I have no idea though because, well, I don't give a fuck about Brooks & Funn. I DO give a fuck about this truck, however, and officially want one (hint, hint – Chanukah is coming up friends…), so peep it here and the specs below: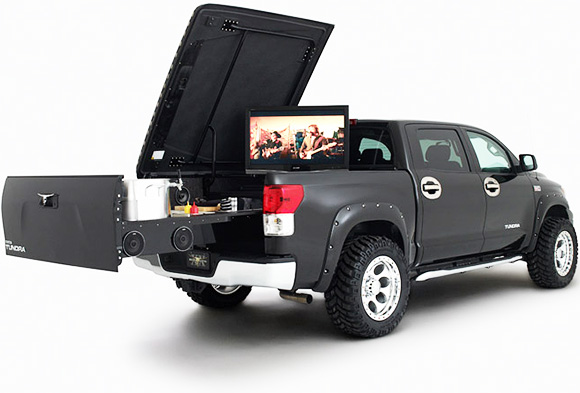 (as always, click the picture for a not-much-closer look)
The Ultimate Tailgating Experience® occurs when you slide out the tailgate, exposing a Grill N Chill® cooking area from Go! Products.  The pull-out Grill N Chill features a cooking space with countertops, infrared barbeque, beverage tap and ice chest.  An electronically operated tonneau cover enhances your tailgate party with a bed-installed 42-inch flat screen TV and sound system by Kicker.  The sound system features a dual subwoofer system and a separate amp, four two-way speakers with tweeters and separate crossovers, and dual two-channel amps with separate equalizers and speaker control units.