To save the three of you that read this blog the pain of reading an eight-page rant about my hatred for LeBron and how his behavior/this fiasco has just solidified that fact with me forever, I'm just going to post links to two articles that really summarize my feelings a lot better than I can.  Also, this picture is great too.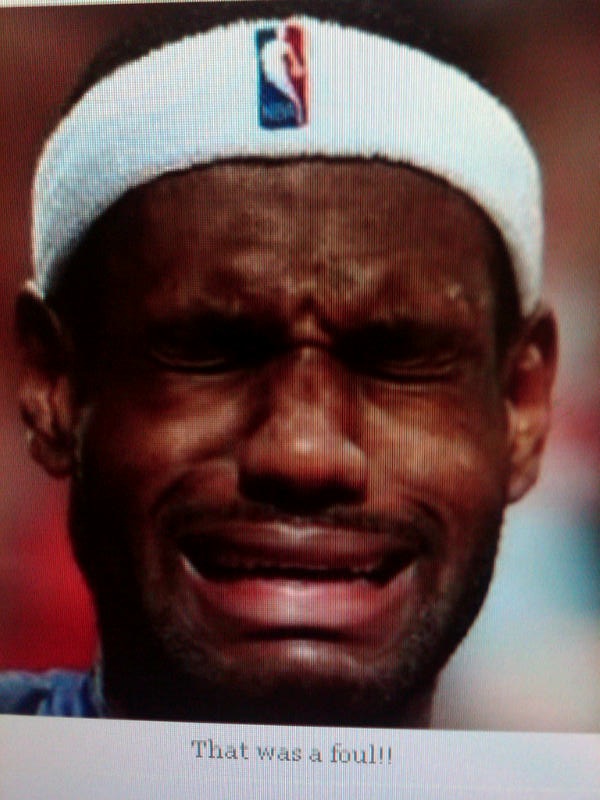 Enjoy the reads:
1. LeBron James Is A Cocksucker: This article was written by Drew Magary, contributing editor to Deadspin, and it's awesomely awesome:
Tomorrow is the day LeBron James becomes the most unlikable person in the NBA, and perhaps all of American sports. I used to think he was okay a year ago. No more. He's the villain now.

It doesn't matter where he opts to go. If he goes to Chicago, he's a cocksucker. If he goes to Miami, he's a cocksucker. Even if he goes back to Cleveland, he's a goddamn cocksucker. He's a self-aggrandizing sack of shit, and ESPN is a bunch of pussy-whipped enablers for giving him a free hour of airtime tomorrow night and inevitably using 55 minutes of it to let Stu Scott give him a rimjob.
LeBron is now the guy you openly root against. If he leaves Cleveland tomorrow night, he'll have needlessly strung along an entire fanbase and given them the middle finger by making their breakup spectacularly public. If he stays, he'll have spent two years cockteasing the rest of the world about going somewhere else when he probably never wanted to leave Ohio to begin with. There's no end result tomorrow that makes LeBron a sympathetic figure. He's already gone past the point of no return. He's a cocksucker. Fitting that his most memorable career moment will come when he doesn't even take a fucking shot. He's a guy that cares more about the end result of playing basketball – massive, unending adulation – than he does actual basketball.
2. Countdown to the LeBronocalypse: And this one was written by the Sports Guy, Bill Simmons, who, as he sometimes does, puts it perfectly:
…If LeBron picks anyone other than the Cavaliers, it will be the cruelest television moment since David Chase ended "The Sopranos" by making everyone think they lost power. Cleveland fans will never forgive LeBron, nor should they. He knows better than anyone what kind of sports anguish they have suffered over the years. Losing LeBron on a contrived one-hour show would be worse than Byner's fumble, Jose Mesa, the Game 5 meltdown against Boston, The Drive, The Shot and everything else. At least those stomach-punch moments weren't preordained, unless you believe God hates Cleveland (entirely possible, by the way). This stomach-punch moment? Calculated. By a local kid they loved, defended and revered.

It would be unforgivable. Repeat: unforgivable. I don't have a dog in this race — as a Celtics fan, I wanted to see him go anywhere but Chicago — but LeBron doing this show after what happened in the 2010 playoffs actually turned me against him. No small feat. I was one of his biggest defenders. Not anymore.
I think it's a cop-out. Any super-competitive person would rather beat Dwyane Wade than play with him. Don't you want to find the Ali to your Frazier and have that rival pull the greatness out of you? That's why I'm holding out hope that LeBron signs with New York or Chicago (or stays in Cleveland), because he'd be saying, "Fine. Kobe, Dwight and Melo all have their teams. Wade and Bosh have their team. The Celtics are still there. Durant's team is coming. I'm gonna go out and build MY team, and I'm kicking all their asses." That's what Jordan would have done. Hell, that's what Kobe would have done.

In May, after the Cavs were ousted in the conference semifinals, I wrote that LeBron was facing one of the greatest sports decisions ever: "winning (Chicago), loyalty (Cleveland) or a chance at immortality (New York)."

I never thought he would pick "HELP!"
LeBron joining Wade after his 2010 playoffs flameout, in my opinion, is like Conan O'Brien getting kicked in the teeth by NBC, then overreacting and forming a late-night version of "The View" with Chris Rock, Adam Carolla and Jeffrey Ross over trying to create his own show somewhere else. (Note to Carolla and Ross: Don't get excited, it's only a hypothetical.) Total cop-out. The move of someone who, deep down, doesn't totally trust his own talents any more. And maybe he doesn't.
Such eloquent poetry…I could quote both these articles all day, particularly Simmons' article because it's longer, but take a look at them yourselves, take a look at that beautiful picture above and then think about it before tuning in to LeDoucheFest 2010 at 9PM tonight.  Regardless of what happens, after this week I won't be disappointed.