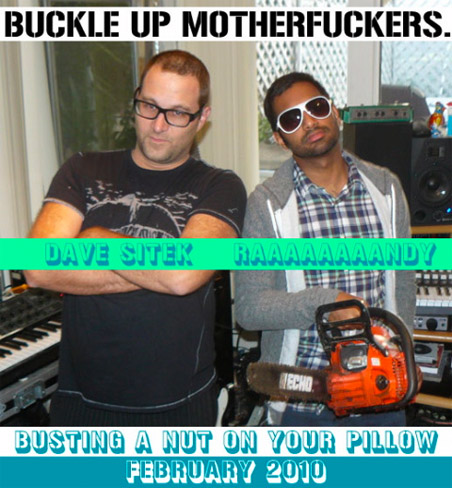 That is the tagline for comedian Aziz Ansari's (Parks and Recreation, the fruit stand guy in Flight of the Conchords) upcoming hip-hop mixtape, co-produced by TV on the Radio's Dave Sitek and featuring his alter-ego "Raaaaaaaandy," (FYI: yes, that does link to laughyourdickoff.com, but, no, it is not a porn site; it is Raaaaaaaaandy's site) the stand-up comedian character played by Ansari in Judd Apatow's Funny People. Here was his announcement of the mixtape on his blog in December:
Dave Sitek and I are working on a mixtape together. That's all we're saying for now, but if everything we have in mind comes together, I can promise three things: 1. Y'all ain't ready. 2. Motherfuckers need to know. 3. Get yo' shit.
Maybe it's just me, but I think he's funny as shit. And yes, I realize that this is the same humor that Lonely Island tackled with "I'm on a Boat," but, guess what, I loved "I'm on a Boat" too.
Today, he released an update on the mixtape, announcing that they need to "push that shit back," and this is where you can really see the potential of this collaboration (and, yes, that's really him spinning):
[via Aziz is Bored & Pitchfork]