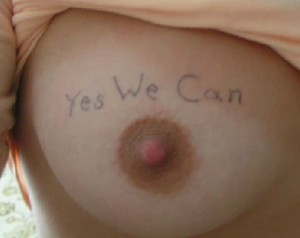 Boobs for Barack: "Show Your Boobs, Show Your Support!"
In honor of the man who is going to turn this country around and change the way the US does business, we bring you one of our favorite things: Boobs!
                      Ladies, show your support for Barack Obama by uploading a picture of your wonderful bossoms! Big or small, black, white, brown or red, real or scientifically modified, they are part of you and we want to see them!
                      Write a message on your mammories, wear a bra, bathing suit, or go totally bare, if you support Barack, then show IT by showing THEM!
Well, I've officially decided who's getting my vote……I guess all I need to do now is figure out what her name is.