As first reported by UniWatch and later elaborated upon by Phinally Philly, the Phils will be wearing the above dope-ass golden-outlined jerseys on opening night against the Braves on April 5th.  (I'll let you know how they look in person)
Besides the "Phillies" on the front being outlined in gold, the player name & number on the back and the number & World Series patch on the sleeves will also be outlined.
Zolecki has since clarified the details of the golden-uni's, in addition to cluing us in on exactly what will be featured on the WFC's jerseys for the other 161 games:
[T]hey will be worn Opening Day only, and eventually will be auctioned off to benefit Phillies charities. The Phillies also will be wearing a World Series champions 2008 patch on their home uniforms all season. They will not wear the patch on the road.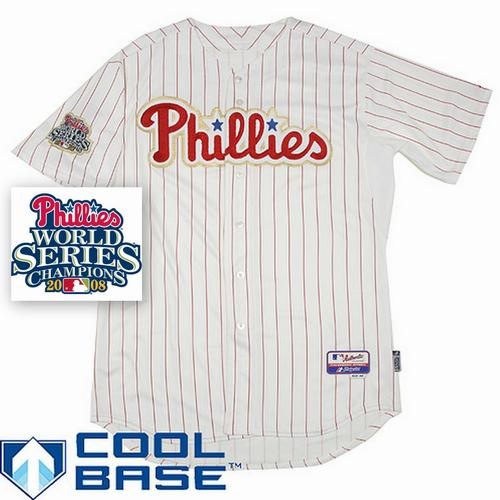 Interesting, not wearing the WFC patch on the road…probably a bribe from David Wright or something.  Oh yeah, and, of course, for a mere $164.99, you can order your own gold-trimmed Phils jersey today!
[Photos courtesy of PhinallyPhilly and The Phightins]