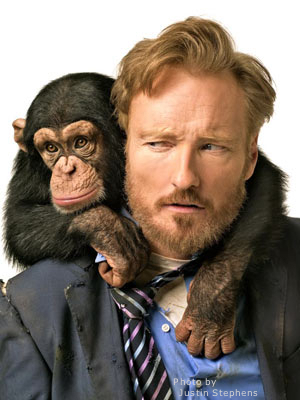 I don't do much Twitter reading, but Conan O'Brien sounds legit. Here are his last 6 tweets as of right now (to emphasize his consistency):
Just got the new iPad. This amazing device has already revolutionized the way I use a calculator.
about 12 hours ago via web
Man, I am so tired. APRIL FOOL'S! I'm NOT tired. (I'm kind of tired)
11:09 AM Apr 1st via web
Jewish fun fact: If you celebrate Passover on top of an overpass, you go back in time.

10:32 AM Mar 29th via web
And the Lord said "On the 7th day thou shall not tweet." And he did not. And it was good.
1:32 PM Mar 28th via web
. sklfjslj;v999[aeae0c (my dog's first tweet)
3:30 PM Mar 27th via web
Found out today that you're supposed to urinate on a jellyfish sting, NOT a jellyroll stain. Sorry, fat stranger

3:49 PM Mar 26th via web
Also, his "bio" states simply:
"I had a show. Then I had a different show. Now I have a Twitter account."
Read Conan O'Brien's newest tweets by clicking here or follow him by clicking here (same link morons).
[via this guy]