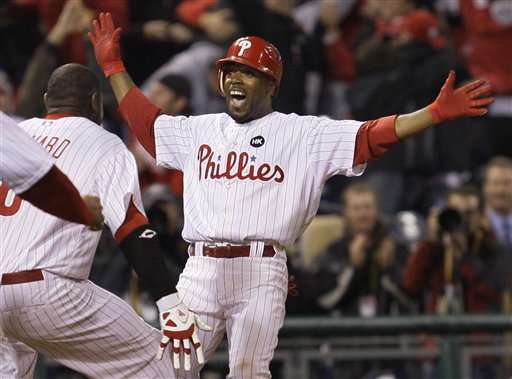 Don't Worry Jimbo: Those First 100 Games of this Season are Now LONG Forgotten…
One of the biggest downsides of being in Central Africa, 6,070 miles away from Philadelphia, in October, aside from the risks of genocide, is not being able to watch my team do what it does so well in the playoffs.  Luckily, although the internet is not fast enough here to stream video or even watch highlights on YouTube, it was fast enough to allow me to read about one of the greatest comebacks, nay, one of the greatest games, in playoff history, three hours after it had happened.  So follow me on my journey through the internet's coverage of Game 4 and relive the heroics of this year's Phightin Phils!
What They Pulled Off This Time
Well, first, here's what happened:
Second, hysterically, watch Barkann, Dutch, and Ricky Bottalico's (back in the Comcast SportsNet studios preparing for an excruciatingly somber post-game show) reactions, as they watch Rollins's GW hit live in the studio:
Relive the Moment as Called by Franzke and L.A.
I am starting to really like Scott Franzke.  So, for you out-of-towners, notice why some of us are talking about the fact that we might have another special broadcaster here as you listen to Harry's-replacement, Scott Franzke, make the call:
Audio clip: Adobe Flash Player (version 9 or above) is required to play this audio clip. Download the latest version here. You also need to have JavaScript enabled in your browser.
(click here to download or click the image above to listen)
Everytime I hear him I like him more and more…and though some people find L.A.'s antics over-the-top and/or unecessary, I actually find them both entertaining and endearing. I have no problem with biased announcers and, dog-gone-it, L.A.'s one of the most biased announcers around! Moving on…
Four Awesome Phils Articles
"Walk-off double puts Phils one win from World Series"
The first is from Beerleaguer, which pretty much sums up Monday night's Game 4 in a neat two-paragraph package:
Beerleaguer: Just another day at the park for the toughest team in baseball. This one goes out to all the national writers who needed further proof as to why the postseason should be framed around a single question: Which team will be the first to hold down the Phillies? Because so far nobody has come close during their reign, and the Dodgers are about to be dragged from the ring after falling asleep on them, just as they did at this exact same point last postseason. The toughness, the thrills: this is what Phillies baseball is about. Cherish it. Fans of 29 other teams only wish they were so lucky.

Reader: "It's pretty cool that Stairs' historic bomb could still have such a resounding residual effect at precisely the same point in the season a year later."
Next, we've got a couple of examples that show just how close the Phils were to losing, as by the time Jimmy stepped to the plate with two outs in the 9th, several media outlets decided to get a head-start on their news and had already posted news of the Dodgers' win!
Here's MLB.com's gaffe: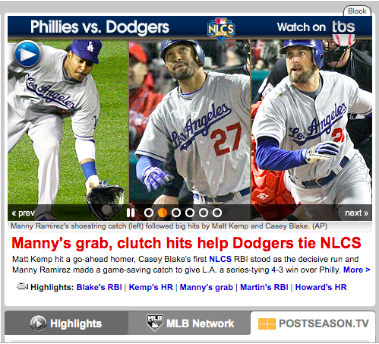 Oops! ESPN.com killing you guys that badly…?
But it wasn't just the mainstream media guilty in this case, as even some of the local blogs had lost hope/failed to watch the Phightins over the past two seasons as well…but then again, being down a run with Jimmy Rollins up and two outs in the 9th against one of the league's premier closers probably sucked the hope out of even most of the optomistic Phils fans.  The author of one of the best Philly Sports blogs out there, Balls, Sticks and Stuff, was guest-blogging for The700Level Monday evening, and he too had begun to write his sad follow-up to the Game 4 loss when things suddenly changed for the better:
"Still pinch-hitting over at The 700 Level, I half-heartedly began to write up a post-game story before the final out.  Here's the gist of it [link]:
As exhilarating as Sunday night's 11-0 win over the Dodgers was, there had to be at least a part of you bracing for a loss this evening.  Don't beat yourself up, it's not Philly pessimism, it's just the nature of baseball in general and our Phillies in particular.

It's not as if the game was a clunker for the Phillies, but

JIMMY!

RUN CHOOCH!  RUN!
This group of Phillies players…  They just don't quit, ever.  Sure, without Jonathan Broxton hitting Carlos Ruiz in the 9th, Jimmy's gapper only ties the game, but there are a ton of teams that can't take advantage of a situation like that, don't even get the gapper.
Only one out left…
…These guys are unreal.  I'd love to know what Harry and Whitey are talking about right now."
Next, an all-out, love-fest of an article from the always-great but continually under-appreciated The House that Glanville Built:
That was that, I thought. Series tied 2-2. The Phils were down to their last out, and Broxton seemed like he could get one more. Except he couldn't. Jimmy sensed that fear, looked for a pitch to drive, and on the third pitch he saw from Broxton, a 1-1 fastball in, Rollins roped one to the right-centerfield gap. The second he hit it, I jumped up off my chair and starting screaming/laughing/yelling/screaming some more. I knew not only was Bruntlett gonna score, but Chooch was too. I just knew. And I as I saw him coming into home, I screamed at the tops of my lungs, "I LOVE THESE FUCKING GUYS!!!!!!!!" I was losing my mind, running around the house, to the back door and running right into it. Then out the front door, running up and down Girard screaming. I couldn't believe it. I still can't. In an instant, I went from despondent, depressed and pissed to overcome with joy. In an instant, the Phils went from a 4-3 loss to even the series at 2-2, to an improbable, impossible 5-4 win to take a commanding 3-1 series lead. This team is un-fucking-real.

Honestly, un-fucking-real.
THTGB also decided to link to the following (which THTGB then described as "the hardest ball he'd ever seen hit"), which I decided to post myself as well, because, frankly, does watching Matthew Stairs tear the heart out of the Dodgers in the 2008 NLCS EVER get old?
"Stairsy walked and you hear everybody in the dugout yelling, 'Same seat, same seat,' " reliever Scott Eyre said, recounting the baseball superstition. "All that stuff we yell all the time. Then Carlos got hit and they were yelling even louder, 'Same seat, same seat.'
" When Rollins got the hit, Eyre described the scene in the dugout as "pandemonium."
And, a little while earlier, Lidge just shook his head and marveled and said, "A lot of teams say they play all 27 outs. I've never seen a team actually do it like this one.
More Angles of Chooch!!!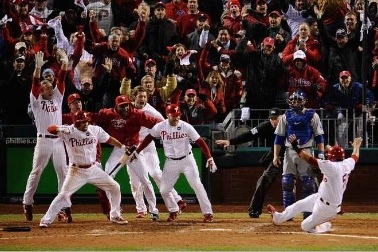 [via The Fightins, Beerleaguer, The House That Glanville Built and Philly.com]