This is funny because I've ALWAYS wondered why I couldn't get my waffle fries on Sundays, and, finally, in this diarrhea of a season that these shitty teams collectively call the NFL, such an obvious explanation only now makes such perfect (and obvious) sense…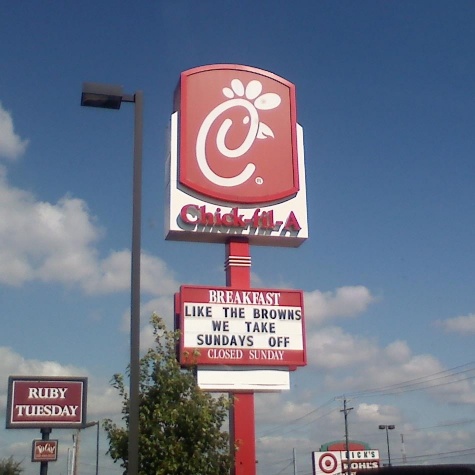 NOTE: Some ridiculous site, going by the stupid-ass name of "Wikipedia", is claiming that Chik-Fil-A's Sunday-closings are, get this, attributed to its founder's devout religious beliefs:
Chick-fil-A founder S. Truett Cathy is a devout Southern Baptist who has taught Sunday School for over 51 years and whose religious beliefs permeate the company to this day. The company's official statement of corporate purpose says that the business exists "to glorify God by being a faithful steward of all that is entrusted to us and to have a positive influence on all who come in contact with Chick-fil-A." The chain invests heavily in community services (especially for children and teenagers) and scholarships. Cathy's beliefs are also responsible for one of the chain's distinctive features: All Chick-fil-A locations (company-owned and franchised, whether in a mall or freestanding) are closed on Sundays.
" Our decision to close on Sunday was our way of honoring God and directing our attention to things more important than our business. If it took seven days to make a living with a restaurant, then we needed to be in some other line of work. Through the years, I have never wavered from that position. "

—S. Truett Cathy
Wonder who the Browns are paying off over at that "Wikipedia" place these days, huh Mr. Goodell?
And if bribery is not involved here, which it clearly is, then it should be duly noted that this "Wikipedia" fellow should really be watching a little more NFL Football before making such ludicrous proclamations about fast-food chains, as such a wild proposition could clearly only be made by someone who has, somehow, not sat down to watch the Browns line up this season for each of the past three Sundays in their entirety. Which is just remarkable.
Ok, now this joke has not only been fiercely beaten into a fruitless, unfunny whatever at this point…but it doesn't even make sense anymore….I'm done.  And it's all Byron's fault.
[via (my new go-to) The B Flow]