Just a few weeks ago I posted a final-exams-limited offering entitled "Jonah Hill Day." In it, I posted a video of Yeezy playing Connect 4 with Mr. Hill to which I had taken a particular liking because of a song Kanye plays in the background. At the time I mentioned that:
"the song Kanye puts on in the background is maybe the best song ever, and you're probably wondering what it is. It's his own remix of Lil Wayne's "Lollipop," and it's sick as hell. I'll try to get an illegal link to it soon."
Well, "soon" apparently meant 25 days because I have obtained said promised illegal link.   The song in the background was Lil' Wayne's remix to "Lollipop" featuring Kanye West, and, as predicted, it is the best song ever. So please enjoy your new favorite song (click the play button to listen or just trust me and click the title to download):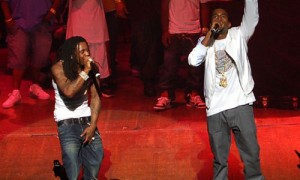 Lil' Wayne – "Lollipop" (Remix feat. Kanye West)
Audio clip: Adobe Flash Player (version 9 or above) is required to play this audio clip. Download the latest version here. You also need to have JavaScript enabled in your browser.

EDITOR'S NOTE: You are not hearing things; always the advocate of practicing safe sex, Weezy does, indeed, utter the following insane lines:
"Safe sex is great sex, better wear a latex, cuz you don't want that late text, like that 'I think I'm late' text."
Just nasty.
Simon's New Favorite Song
I've also decided to introduce a new section this week entitled "Simon's New Favorite Song," wherein I project what will be Simon's favorite song in a few months, after it has already debuted, peaked and subsequently fallen off the Billboard Top 100. This week's song is only a snippet because, apparently, the online rap stealers have failed to obtain the entire version thus far. But it is otherwise obvious that this will almost definitely eventually be a "Simon Jam."
Audio clip: Adobe Flash Player (version 9 or above) is required to play this audio clip. Download the latest version here. You also need to have JavaScript enabled in your browser.